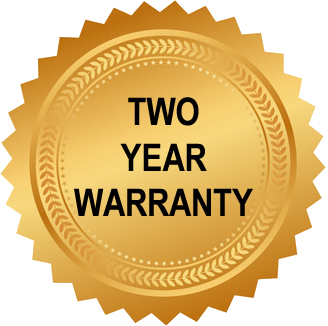 2 Year Warranty: All ADVACO pump rebuilds are covered by our exclusive two year warranty, from the date of installation, against defects in parts and workmanship.
ADVACO offers complete remanufacturing services for Stokes (Edwards), Kinney and Leybold rotary-piston vacuum pumps. With nearly half a century of experience servicing rotary piston vacuum pumps, we understand the environments these pumps are exposed to and the performance demands placed upon them. ADVACO has perfected several remanufacturing techniques for the rotary piston vacuum pump that restore critical tolerances while at the same time dramatically reducing the overall rebuild price.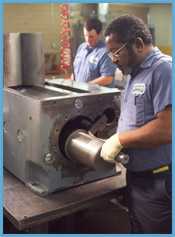 Included in Every Rebuild
Click Here to read more about ADVACO's - Best Service - Best Warranty - Best Experience.
The Blueprint Process
Disassembly/Cleaning
Via state-of-the-art, EPA compliant systems
Inspection/Quotation
Certified Vacuum Technicians utilizing specially designed and calibrated instruments will thoroughly inspect all of the unit's components (including electrical and diagnostic systems) vs original OEM specifications.
In-House Machine Shop Service – remanufacturing of major components vs. replacement with new.
Demonstrated ability to over-size the hinge bar bore in custom increments up to 0.750" oversize – maximizing pump's effective life.
Custom hinge bar manufacturing to fit new bore dimension
Remanufacturing of pistons and eccentrics
Assembly
The standard rebuild of a piston pump will include the replacement of o-rings, gaskets, seals, freeze plugs, keys, valve springs, valve clappers, valve seats, bearings, sight glass, oil flow indicator, ball valves, solenoid valve, and a rebuilt oil separator.
Testing/Quality Control
Inboard and Outboard Helium Leak Testing
Extensive post re-manufacturing testing via proprietary software/hardware.
Applicable equipment software verified and re-set (run hours, etc.).
Pumps We Rebuild
- Start typing to search pump models we service. Don't see a pump you are looking for? Contact Us Today.
| Manufacturer | Series | Model |
| --- | --- | --- |
| Leybold | E | E75, E150, E250 |
| Leybold | DK | DK100, DK200 |
| Stokes | -- | 149H-11, 148H-10, 149, 212H-10, 412, 612, 912, C300, 146H-13, 212H-11, 212J, 212J-14, 412H-10, 412H-11, 412H-33, 412J-14, 612-30 |
| Kinney | -- | KC15, KC5, KC8, KDH130, KT505LP, KT850C/D, KTC112, KTC21, KVAC-10, KVAC-15, KVAC-2, KVAC-21, KVAC-33, KVAC-5, KVAC-63 |
Request Information
We offer expert rebuilds, remanufactured units, and technical assistance for your vacuum pumps. Select an option below so our team can help you as quickly as possible.
Pump Rebuild Pump Purchase Technical Assistance General Information
Request Pump Rebuild Information
* required
Request Pump Purchase Information
* required
Request Technical Assistance
* required
Request General Information
* required